ZEE bags 'Gold' at the prestigious Brandon Hall Technology Awards'22
ZEE bags 'Gold' at the prestigious Brandon Hall Technology Awards'22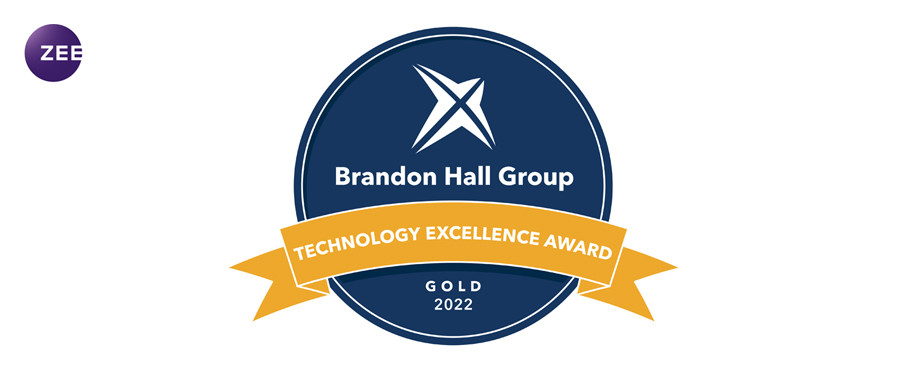 By Pinkerala News Desk | Jan 05, 2023
ZEE bags 'Gold' at the prestigious Brandon Hall Technology Awards'22
Recognized with Gold for 'Best Advance in Emerging Learning Technology' under Technology Awards category

Firmly structures the roadmap for the next phase of growth in India's M&E sector
Mumbai, 04 January 2023: ZEE Entertainment Enterprises Limited (ZEEL), India's largest content and entertainment powerhouse, has bagged 'Gold' award under 'Best Advance in Emerging Learning Technology' at the Brandon Hall Group Excellence Technology Awards 2022. The company's digital learning platform 'Digicademy' has been adjudged as one of the best technology-based learning initiatives globally, by the Brandon Hall Group.
The prestigious awards forum has been recognizing the best organizations across the globe that have successfully deployed people practices and programs. Coupling the research studies with the best practice from the awards, Brandon Hall Group enjoys a legacy of over 28 years, delivering world-class research and advisory.
In line with the company's long-term ZEE 4.0 vision, the organization has been institutionalizing a strategic re-design and restructuring to develop as well as encourage a learner-centric approach. Following a pioneering approach, ZEE Entertainment has been consistently driving a culture of 'Continuous Learning', through the implementation of its iconic 'Academy of Excellence' model. Comprising of successful initiatives such as Compliance Academy, Digicademy and Lead-Your-Ship Academy, the 'Academy of Excellence' model is taking forward major strides in capability-building and developing a culture of fostering talent through upskilling, with an aim to chart the next phase of growth.
Digicademy, the company's first-of-its-kind has been awarded for its Robust AI-powered Learning Experience Platform (LXP). The objective of the programme was to set up 4 distinct propositions – Skill Development, Learner Centricity, Business Impact, Content Integration and Curation. The company has entered into strategic partnership with EdCast, extending support in onboarding and integrating the platform's processes. Further, the AI-backed platform is supplemented by the World's Largest Content Aggregator – Go1 Content Hub. The platform offers personalized learning experiences through content recommendations to all the employees at ZEE basis their roles, functions, and levels. Furthermore, it provides access to upskilling and role-based skill development through a unique feature called the "Skills Directory" which makes use of "Burning Glass Taxonomy" to recommend courses on functional, behavioural & leadership skills for each role. Another interesting feature offered by the platform is the in-depth visibility on learning metrics and the feasibility to create custom dashboards.
Talking about the award victory, Mr. Dheeraj Jaggi, Head – Enterprise Culture and Capability Development and Head HR, Content SBU, Zee Entertainment Enterprises Limited said, "With ethos comprising of technology, disruption and innovation, ZEE has been successfully pioneering the digital transformation in India media and entertainment industry. Following a future-ready approach, ZEE has been laying the roadmap for the next phase of growth, directing employees towards self-development and business growth, while also creating an agile, data-driven, creative problem-solving, innovation-driven Enterprise Culture. Keeping up with rapid digitization globally, Digicademy aims to democratize learning by making it convenient, accessible, and learner-centric"
In a bid to ensure widespread and effective adoption, the Enterprise Culture & Capability Development team opted for a quirky, new-age approach by driving topical internal learning campaigns on monthly basis, garnering positive employee feedback, and ensuring progressive work environment. On back of these tactical campaigns, Digicademy garnered a phenomenal response from both internal and external stakeholders, successfully onboarding 98% of employees, thereby breaking global and AMEA records consistently.
During the past one year, ZEE's learning, and development programmes have won numerous accolades and awards at renowned HR forums such as ET HR World, BW People, People First HR, etc. ZEE's pioneering initiatives set to lay the roadmap for the company's next phase of growth, directing employees towards self-development and business growth, while also creating an agile, data-driven, creative problem-solving, innovation-driven Enterprise Culture.
About ZEE Entertainment Enterprises Ltd. (ZEEL):
Zee Entertainment Enterprises Ltd. is a leading content company offering entertainment content to diverse audiences. With a presence in over 190 countries and a reach of more than 1.3 billion people around the globe, ZEEL is among the largest global Media & Entertainment Companies across genres, languages, and integrated content platforms.
About Brandon Hall Group:
Brandon Hall Group operates the largest and longest running awards program in Human Capital Management. As an independent HCM research and analyst firm they conduct studies in Learning and Development, Talent Management, Leadership Development, Diversity, Equity & Inclusion, Talent Acquisition and HR/Workforce Management. These benchmark studies help organizations by providing strategic insights for executives and practitioners responsible for growth and business results.
Coupling the research studies with the best practice from the awards, Brandon Hall Group has helped more than 10,000 clients globally and more than 28 years of delivering world-class research and advisory. At the core of our offerings is a membership program that combines research, benchmarking and unlimited access to data and analysts. Membership enables executives and practitioners to make the right decisions about people, processes, and systems, coalesced with analyst advisory services, which aim to put the research into action in a way that is practical and efficient.
Brandon Hall Group has also launched professional certifications for business and human capital management professionals to upskill themselves and gain credentials for career advancement. (www.brandonhall.com)
Media Contacts:
Kartik Behl: +91-9004333899 – kartik.behl@adfactorspr.com