Malabar Gold Private Ltd won 'Excellence and Store' award for South
Malabar Gold Private Ltd won 'Excellence and Store' award for South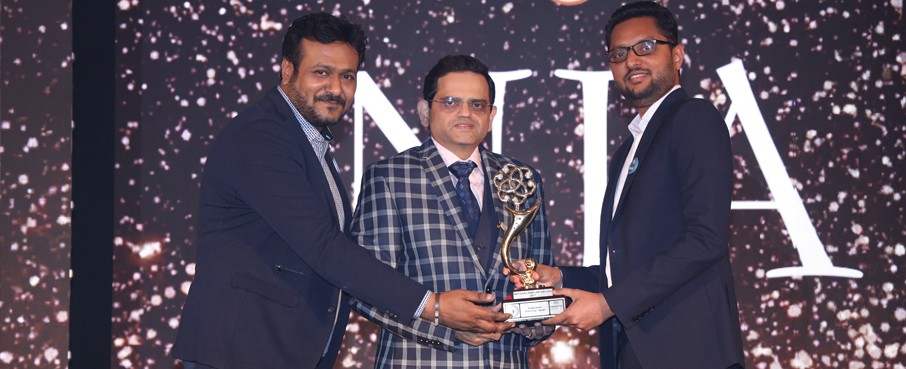 By Pinkerala News Desk | Feb 29, 2020
It was a night to remember as the stars of the gem & jewelry sector walked away with their trophies even as Bollywood stars cheered them on for their achievements! 35 awards in 8 categories were given away at the 9th edition of the annual National Jewellery Awards (NJA Awards 2019), an initiative by the All India Gem and Jewellery Domestic Council (GJC), the apex body for domestic jewelry sector, were held at Hotel Renaissance Powai, Mumbai. Actor Sharad Kelkar hosted NJA 2019 and actress Esha Gupta gave away several awards to add glamour & glitz to the Awards.
Malabar Gold Private Ltd won the 'Excellence and Store' under the Single Store Category award for South at the 9th edition of GJC's National Jewellery Awards (NJA). Malabar Gold & Diamonds is the flagship company of Malabar Group. It was established in 1993 in Kozhikode, Kerala. Today, it has a strong retail network of over 250 outlets spread across 10 countries, 10 wholesale units in addition to offices, design centers and factories spread across India, the Middle East & the Far East. The company currently ranks among the BIG 5 jewelry retailers globally.
Malabar Gold Pvt. Ltd. also won an award under the CSR awards category. Mahesh Jain from PB Society Jewellers, Kanpur, Uttar Pradesh, was honored with the Anmol Ratna award. Gem of the Year North – Subhash Bhola (BholaSons Jewellers Delhi; Gem of the Year West – Mr. Atul J. Shah, Chandukaka Saraf, Pune; Gem of the Year South – AS Sriram, ANS Jewelry Salem; Gem of the Year East – Madanlal Bamalwa Nemichand Bamalwa & Sons, Kolkata. Prerna Khurana from Khurana Jewellers, Amritsar, won the Woman Entrepreneur Award. Sanjib Dey won the Designer Award (Hand Sketch/ CAD) and Vummidi Bangaru Jewellers won the Artisan/ Craftsman Award. 10 student winners won scholarship worth Rs. 1 lakh each (total of Rs. 10 lakh) from the International Institute of Gemology (IIG): Rishav Sharma, Mir Aminur Rahaman, Dinkey Bagaria, Sumana Das, Vaishali Jain, Neoty Patra, Khushboo Moryani, Ritika Paliwal (from Sawansukha Institute), Swetha Shanmuhavel (NIFT Chennai) and Seema Bubna (INSD).
Other awards were as follows: Sona Chandi Jewellers (North), Kulthiaa Jewels Pvt Ltd (East) And KK Jewels (West) won the Single Store Of The Year Awards. The Campaign Of The Year Winner - Viswa And Devji Diamonds Private Limited. Jewelry Award Winners are as follows: The Bride's Pride (Gold Bridal Jewellery Of The Year) - C. Krishniah Chetty & Sons (P) Ltd.;
The Bride's Pride (Diamond Bridal Jewellery Of The Year) - Mehta Emporium Jewellers; The Bride's Pride (Jadau Bridal Jewellery Of The Year)- Sabine Jewellers; Couture Jewellery Of The Year (Gold Or Diamond)- Sawansukha Jewellers Pvt. Ltd.;
The New - Age Women's Jewellery (9 To 5 Jewellery - Gold Or Diamond) - Bhindi Jewellers; The Touch Of Color (Colourstone Jewellery Of The Year) - Narayan Jewellers Pvt. Ltd.; Platinum Jewellery Of The Year - Emerald Jewel Industry India Limited; Paramparik Jewellery - An Artisan's Pride - Mahabir Danwar Jewellers Pvt. Ltd.; Zirconia Jewellery Of The Year - AVR Swarna Mahal Jewelry Private Limited;
Bangle/Bracelet/Kada Of The Year - Kays Jewels Limited; Ring Of The Year - Hanumant Diamonds; Earring Of The Year - Enshine; All Eyes On Him (Men's Jewellery Of The Year) -Kirtilal Kalidas Jewellers Private Ltd.;
Accessory Of The Year - Abhinandan Jewellers; Traditional Silver Jewellery Of The Year - Sri Vasavi Thanga Maaligai.
Mr. Anantha Padmanaban, Chairman, GJC, said, "The winners of GJC's most prestigious and eagerly awaited NJA Awards 2019 indicate that small, medium & large jewelers from diverse parts of India are now taking center stage and competing to win amongst the best in the country. The entire country should applaud its relentless spirit, energy and enthusiasm as they are marching on despite several challenges in the business environment. NJA awards salute India's legendary heritage and culture of producing one of the world's finest jewelry, especially handcrafted ones. NJA proves that India has an immense pool of talent for artisans and craftsmen as well as young students taking up the profession. We are happy that each of the student winners will get a scholarship of Rs. 1 lakh sponsored by the education partner International Institute of Gemology (IIG)."
Mr. Ashish Pethe, Convener, NJA Awards, Director GJC, added, "GJC has ensured that NJA becomes bigger and better than ever before with 770 nominations from all over India. This year, NJA awards honored those who showcased creativity, innovation, inspiration, passion, craft and devotion. NJA awards honored the rich Indian artistic acumen and creative designs in the Make in India gems and jewelry industry. It paid rich tributes to the business & marketing acumen of the jewelry manufacturers, wholesalers and retailers, aspiring jewelry designers, craftsmen and students of gems and Jewellery industry who fought against all odds to win a customer."
Mr. Ashish Kothari, Co-Convener, NJA Awards, GJC, said, "Every shortlisted nominee is also a winner as choosing the winners was a very difficult task due to the high quality of the entries. Everyone demonstrated phenomenal creativity and diversity in their entries for various categories such as Bridal in Gold, Diamond, Platinum, Jadau, etc.; Men's jewelry, Accessory of the year; Silver Jewellery of the Year winners of NJA 2019, etc. The winner's creations reflected the aspirations and designs of the modern consumer while upholding our design legacy."
Mr. Nilesh Shobawat, Co-convener-NJA, GJC, said, "We are grateful to our sponsors NSE, e-Johri, World Gold Council, Swarovski Gemstones, Forevermark, International Institute of Gemology, Laxmi Diamond, Jaigulab Dev Jewellers and BVC amongst others. We are grateful to the Jury member and Ernst & Young. We are grateful to members for sending so many entries and participating wholeheartedly in the process. We thank the gem & jewelry institutes and design academies for sending a large number of entries."
NSE presented NJA 2019 powered by e-Johri & World Gold Council (WGC); Trophy partner – Swarovski Gemstones; Supporting Partner – Forevermark; Laxmi Diamond – Jewellery Partner; Logistics Partner – BVC; Education Partner – International Institute of Gemology. The Grand Jury comprising actress & former Miss India Universe Simmran Kaur Mundi, actress Ms. Mannara Chopra, Mr. Rajiv Popley (Director- Popley Group), Mr. Riyaz Gangji & Mrs. Reshma Shetty Gangji (Fashion Designer Label- LIBAS); Mr. Anand Shah (Jewellery Designer Brand) and Mr. Gautam Banerjee (Jewellery Designer Academy) adjudged entries Ernst & Young are the process advisors to the awards this year, adding scrutiny and secrecy to the awards, thus ensuring unbiased and transparent process.